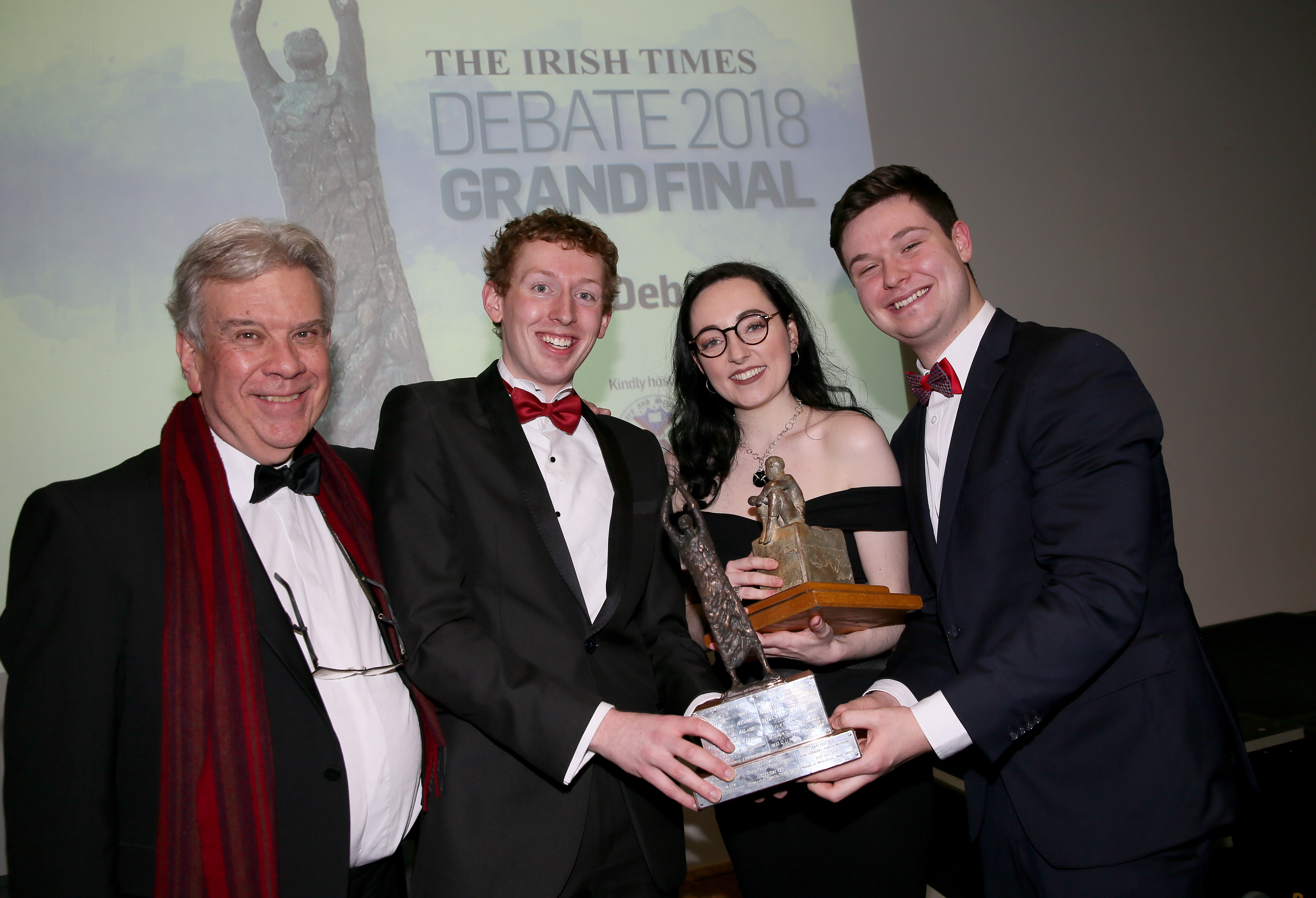 INTRODUCING THE IRISH
Amy, Cian & Aodhan
"I think people at heart are mostly trying to do the right thing and I think it's telling that for all our self-criticism, by almost any criteria, today is the best time to be alive in the history of humanity."
Cian Leahy
Two future lawyers and a future doctor – all debaters from the University College Dublin (UCD) – will travel to America after winning the 58th Irish Times Final on Friday, Feb. 23.
The 2018 debate was hosted by The Literary and Scientific Society of Queen's University in Belfast. The celebrity chair for this year was The Right Honourable Lord Justice Stephens, one of three Lords Justices of Appeal in Northern Ireland.
The topic for the evening was a contentious one about the state of the nation: "This House believes that Ireland has failed its youth." All three winning debaters were on the government side, defending that resolution.
Here's how the Irish Times described the championship round:
"The proposers of the motion argued that the housing crisis and lack of mental health provision showed Ireland's youth had lost out," wrote the Times. "They recalled young people unable to attend university because they could not afford the rent or living in cramped accommodation so cold their teeth chattered."
Individual winner Crean was praised as perhaps the most memorable speaker in the round.
"We cling to others like sand to wet feet. We don't know who we are," she said during the debate.
The Times summary concluded with these words:
"From a scratched emerald to a leaking boat sailing against the wind the characterisation of the country was colourful. Americanisation of culture was bemoaned and the lack of an Irish equivalent of Bollywood."
The final was standing-room only, with 200 or more observers at Queens University Belfast.
Aodhan ("aid-dawn") Peelo, 22, and Cian ("keen") Leahy, 24, both study at UCD. Peelo is a fourth-year student studying philosophy and law. Leahy is a 6th year student, training to become a physician. Peelo and Leahy were crowned the top team, in a year-long event that began with 80 teams from 22 Irish colleges and universities.
Amy Crean, 22, the Best Individual Speaker, is a fourth-year student, studying law and social justice at UCD. The win was a birthday present of sorts, since the final was held on her 22nd birthday.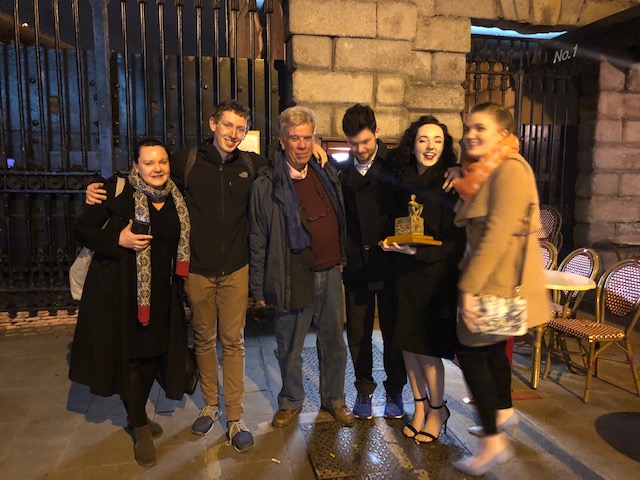 AMY CREAN
Amy Crean hails from Claremorris, a town of 32,000 in Western Ireland, one-hour north of Galway. She is studying law and social justice at University College Dublin. Her father's a lecturer and her mother is an IT consultant.
Crean's dreams include a career in law and/or politics – an extension of her activism as a student.
"I'm very involved in LGBTQ+ activism and feminist groups, and occasionally write pieces for the university paper on such issues," Crean says. "I volunteer with the Abortion Rights Campaign Ireland and for the National Council of the Blind. I do some lobbying, but more with groups than with parties."
Her hobbies?
"Activism, reading, writing, and bingeing Netflix! I also enjoy roller derby but am notably terrible at it (but improving)."
Crean describes herself "passionate, funny, empathetic" and also as optimistic by nature.
"At least I try to be," she says. "I find debating and political organizing drives that optimism, getting involved with other people who are invested in creating change."
She even sees a silver lining in America's current political unrest.
"I would feel less than positive about the current President, but -obvious political bias here- think that the resulting political climate under Trump has also demonstrated the commitment of American activists in defending the rights they have achieved."
Crean sees debating overseas as an opportunity to build bridges.
She says debating across borders helps in numerous ways including "understanding different perspectives on issues, the various impacts of any stance, and learning from others' experiences; cultural understanding offers nuanced views and fresh ideas for tackling problems."
Crean's victory in the Irish Times Final was all the more remarkable because debate is more a hobby than a consuming passion for Crean. She has been a member of the UCD debate society for four years, serving as librarian of the Literary and Historical Society. She's debated mostly in the "house debates," rather than at European tournaments.
Crean's interest in law and in social justice started early.
"I started debating in secondary school, but only did a little," she says. Her victory may have surprised Amy, but not the judges, the observers or her colleagues in the society.
Crean, whose only previous trip to America was to California and Las Vegas when she was 10, is eager for the return.
"I'm surprised, thrilled, incredibly excited," she said. "I absolutely cannot wait."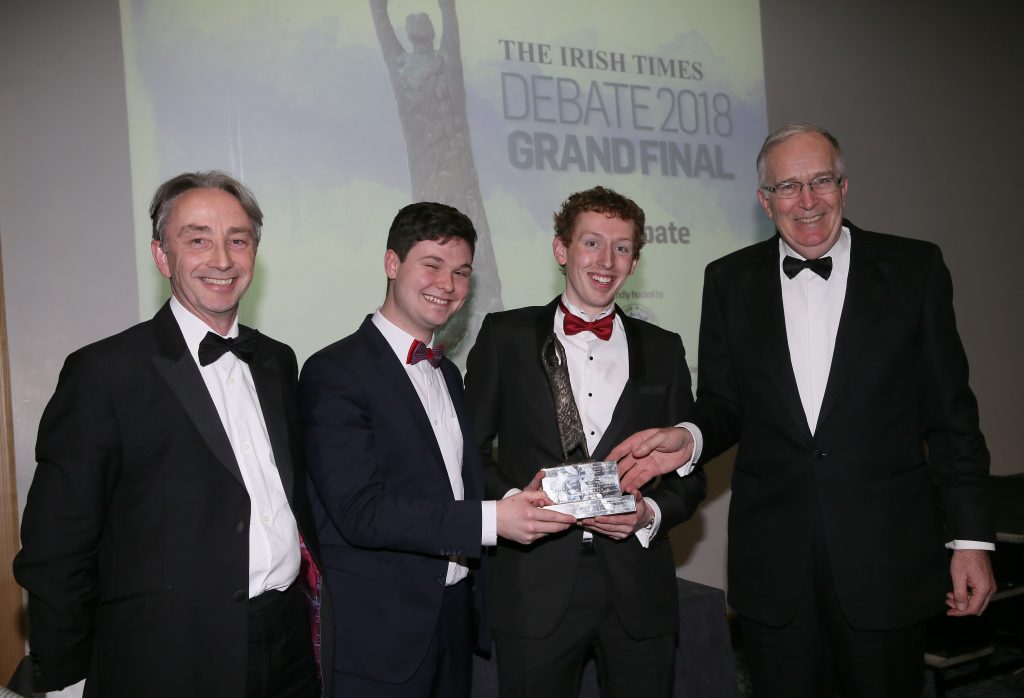 CIAN LEAHY
Cian Leahy grew up in from Julianstown in Co Meath, 43 miles north of Dublin near the Irish Sea, not far from Drogheda. His dad's a banker and his mother is chief information officer in the Health Service Executive, which oversees the health care system in Ireland.
Leahy, who is completing his sixth year of medical study, was the runner up in the Irish Times competition in 2016 before winning this year.
Leahy has an impressive debate resume, which includes competing at the European and World Championships. He's reached the finals in intervarsity competitions at home and abroad. He served as both treasurer and then president of the UCD debate society, the largest such society in Europe.
"As for the Irish Times, it was a huge honour," he said. "I've been debating for a long time and this year was sort of my swan song. So, it was nice to win."
When he's not debating, Leahy describes himself as a "huge nerd," a serious reader whose been "devouring books" since he began to read. "To the extent that my parents once bought me a PlayStation in the hopes I'd spend less time engrossed in books." He says he spends extra time "learning things," and "the more obscure and seemingly useless the better."
But he does find his way to the gym and the countryside.


"I do a good bit of swimming, cycling and running," he says. "I'm a fan or rock-climbing although academics has kept me from that a bit.
He says he was shy as a teenager but is now more "extrovert than introvert."
"I like to think I'm funny, but the best way to tell a person isn't funny is when they tell you that they are."
Cian has volunteered his time for many good causes, including the St. Vincent De Paul, an international charitable organization that is also very active in the United States. He's been abroad to volunteer in Global South countries. He and a friend, former Irish Times winner Eoin MacLachlan, founded a debating charity that provides debating opportunities for children from disadvantaged areas of Dublin.
Cian says he follows politics closely but isn't a member of a party or campaign. He says he'd rather not comment on current leadership in the states.
"I'm tempted to steer clear of that," he says. "I might give different answers if I'm in Tennessee or California."
He says he's rather hopelessly optimistic about the world's future, despite challenges.
"My girlfriend mocks me about being so optimistic, but I really am," he says. "I think people at heart are mostly trying to do the right thing and I think it's telling that for all our self-criticism, by almost any criteria, today is the best time to be alive in the history of humanity."
Cian has been in America a couple times, including two months in DC as part of the Washington Ireland Programme, an outgrowth of the peace process in Northern Ireland, which identifies "promising future leaders" and sends them to serve as an intern in the US congress and also a week in New York attending workshops with leading Wall Street figures.
He's eager to return.
"I'm so happy," he says. "I'm prone to wanderlust, and absolutely love traveling."
He sees great value in debating against students from other countries.
"I think it's so valuable," Cian says. "our opinions are shaped very much by our backgrounds, and usually by the very nature of that phenomenon. We are therefore blind to our biases and what we don't know. Seeing a problem through someone else's eyes can be such an asset to solving problems and discussing issues."
AODHÁN PEELO
Aodhan Peelo, 22, was raised in Castleknock, a suburb of Dublin, the son of two engineers. He's studying law and philosophy and is headed towards a career in law.
Peelo has a stellar debate resume, including reaching the quarterfinals at the world championships for BP debate in the Netherlands in 2017.
Other debate recognition included being a finalist in the European championships. He was runner up in the Times competition in 2014.
Despite his success arguing about politics, he says "politics isn't my cup of tea at all," although he's more than happy to contribute time and energy to worthwhile causes.
Aodhan says friends describe him as "a little shy, but cheerful and fun." He's volunteered in Irish Schools debating this year. He's been a scout since he was 6, but, of course, has found it hard to keep up with scouting during his busy college years.
When he's not debating, he's loves to watch TV shows such as "Brooklyn nine-nine" or "QI" (Quite Interesting), a British comedy panel game television quiz show.
His reaction to winning a spot on the tour is predictable.
"I'm so so happy," he says. "And proud."
All three debaters are bringing an optimistic spirit and much enthusiasm to the states.
"I think one of the most important parts are the discussions that happen after debates," says Peelo. "I've learned so much, and heard so many different opinions, not even in formal debates themselves but listening to friend's reactions afterwards.
"I also think that debating is super for teaching people to put themselves in someone else's shoes and hear new ideas and views.
The Irish love meeting Americans and American students.
"Americans are incredibly welcoming, cheerful and honest," says Peelo. "I haven't been here since I was a small child so I really am not sure how much I can offer, but I have fantastic memories and can't wait to see more of the country!"
THE IRISH TIMES DEBATES
The Irish Times, Ireland's "serious paper of record," has sponsored the Irish Times debating championship for more than 50 years.
This year the Times sponsored preliminary debates in multiple cities, which drew 80 teams from 22 colleges and universities. Each preliminary round resulted in the advancement of the top teams, plus the best individual from among the losing teams. After two rounds of preliminaries, semi-finals were held and then the Grand Final in Belfast on Friday, Feb. 23.
The championship final is a black-tie event, with all debaters and judges in formal dress, and many members of the audience in tuxedoes and formal gowns as well. The overflow crowd at Queen's University in Belfast was responsive and appreciative throughout the debate.
Ireland takes debate seriously and takes pride in its history of inspired rhetoric.
Ireland debate societies often invite dignitaries to their debates such as Archbishop Desmond Tutu, Noam Chomsky, Robert Fisk and former Irish President and former UN High Commissioner for Human Rights, Mary Robinson.
The debating competition, which began in 1960, is open to all students, whether undergraduates or graduate students or law students. The winners have included many individuals who later distinguished themselves in Irish politics and Irish law.
Past winners include broadcasters Derek Davis and Marian Fenucane, Supreme Court judges Adrian Hardiman and Donal O'Donnell as well as many well-known Irish politicians.
The winners will tour the United States from March 13 to April 17. The tour begins in New York City.
On Saint Patrick's Day, the Irish will be guests of honor at the New York City Saint Patrick's Day parade and celebration. They will be on the grandstand reserved for VIPs and dignitaries. In past years, they've meet the parade's Grand Marshal – such as George Mitchell, a former American Senator from Maine who played a noteworthy role in the Northern Ireland peace negotiations.
From there the tour continues to Tennessee, Miami, Spokane, Billings and northern California.
The final stop will be at the American National debate championships at Stanford University, featuring the finest debaters in the United States competing in one of the largest tournaments in the nation.
The tour is coordinated by Pax Rhetorica, a non-profit dedicated to international dialogue and fostering peace, by facilitating events that encourage "words across borders."
~Brent Northup, March 13, 2018
Ireland à New York, NY à Nashville, TN à Miami, FLà Spokane, WAà Billings, MTà Arcata, CA à Stanford, CA à Ireland
Departure from Dublin: Tuesday, March 13th, 2018
Return to Dublin: Tuesday, April 17th, 2018
Mar 13th – Mar 20th New York, New York
Mar 20th – Mar 27th Murfreesboro, Tennessee
Mar 27th – Mar 31st Nashville, Tennessee (Vanderbilt)
Mar 31st – Apr 3rd Miami, Florida
Apr 3rd – Apr 5th Spokane, Washington
Apr 5th – Apr 9th Billings, Montana
Apr 9th – Apr 12th Arcata, California (Humboldt)
Apr 12th – Apr 16th USU/Stanford University
Apr 17th Return to Ireland
Highlights…
NEW YORK CITY: Ar. Tues. (13th), Wed., Thurs, Fri, Sat, Sun, Mon, Lv. Tues (20). Host: Steve Llano, St. John's University. Hotel in downtown Manhattan. Guests of Honor at NYC St. Paddy's Day Parade.
MURFREESBORO: Ar. Tues. (20th), Wed, Thurs, Fri, Sat, Sun. Mon, Lv. Tues, (27). Host: Pat Richey, Murfreesboro, Tennessee; Tennessee State, Murfreesboro. Lynchburg & Jack Daniels Distillery.
VANDERBILT: Ar. Tues. (27) Wed, Thurs., Fri, Lv. Sat (31) Host: Mary Lynn Sandoz, Nashville Tennessee, Vanderbilt University. Music, Nashville Tour including – but not limited to – Grand Ole Opry, Ryman Auditorium, Centennial Park. Civil War Battlefields.
MIAMI: Ar. Sat (31), Sun, Mon, Lv. Tues (3). Host: Dave Steinberg, U of Miami. Debates and De-beaches
SPOKANE: Ar. Tues. (3), Weds, Thurs, Lv. Fri (6). Host: Mike Ingram, Whitworth University. Sightseeing, banquet, Irish pub.
BILLINGS: Ar. Thurs. (5), Fri, Sat, Sun, Lv. Mon (9). Host: Shelby Jo Long, Rocky Mountain College. Yellowstone Mountains, Beartooth Range. Ranches and the animals of the West. Cowboys!
ARCATA: Ar. Mon (9), Tues, Wed, Lv. Thu (12). Host: Aaron Donaldson, Humboldt University. Hippies, beaches and redwoods, oh my!
STANFORD: Ar. Thurs. (12), Fri, Sat, Sun, Mon (16), Lv. Tues (17), (Home). California! America's National BP Championships at Stanford University, Stanford California. Irish will be guest judging. Guests of Brent Northup and Stanford University and the USU National BP Championships.
Irish Tour of America, arranged by Pax Rhetorica Center for Global Dialogue