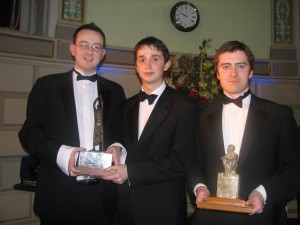 Irish Rising in America
The 2007 Irish Tour of America
Colorado ® Alaska ® California ® Illinois ® Florida
Departure from Dublin: Wednesday March 21
Return to Dublin: Monday, 8 a.m., April 9
Highlights
TO DENVER/COLORADO SPRINGS. On Wednesday, March 21 Fly from Dublin to Denver. Host Brent Northup, NPDA. The Irish will be driven to Colorado Springs, Colorado for the national championships hosted at Colorado College The Irish will stay at Doubletree Colorado Springs World Arena.
On Thursday, March 22, The Irish will be featured in the annual American/Irish public debate at the opening assembly of NPDA Nationals at 4:30 p.m. at the Doubletree in Colorado Springs.
On Friday, March 23, through Sunday, March 25. The Irish are guests at the American national championship tournament.  Possible side trip to Colorado Springs attraction.
TO DENVER: On Sunday night, March 25, Irish will return with Regis squad from Nationals to Denver, Colorado.  Host: Robert Margesson. A tour of downtown Denver including a visit to the Denver Art Museum, the Denver Aquarium, and tea service at the Brown Palace or a day trip to Rocky Mountain National Park with lunch in Estes Park. There will also be a campus-wide debate in the Science Amphitheater.
TO ALASKA: On Tuesday, March 27, Irish leave Denver for Alaska. Host: Steve Johnson.
 Wednesday, March 28: Alaska. Tour of Portage Glacier, Girdwood, Turnagain Arm. There will be a private debate for UAA alums and donors at McGinley's Irish Pub, downtown.
Thursday: Anchorage Museum, Alaska Native Heritage Center. There will be a public debate on UAA campus.
TO CALIFORNIA: On Friday, March 30. Depart Alaska for northern California, U of Pacific.
Friday: Likely late afternoon arrival from Alaska. Team Dinner and get together.
Saturday: Travel via private limousine to Napa Valley Wineries, an all day tour.
Sunday: Meeting with team and social activities.
Monday: Community-wide exhibition versus the Pacific team. Topic: This House would return to Prohibition. Irish will be on Gov. In conjunction with International Programs and Services.
TO ST. LOUIS: On Tuesday, April 3, the Irish leave early for St. Louis. Aiming for 1:30 p.m. St. Louis arrival. Tour of Anheuser-Bush Brewery and St. Louis Gateway Arch. Drive to Carbondale, Illinois in the evening.
Wednesday, April 4: Tour of region: Sample Southern Illinois wineries (Alto Vineyards) and see Bald Knob Cross. In the evening, there will be a campus-wide exhibition debate in the Student Center. There will be a Reception following the debate.
TO MIAMI: Thursday, April 5: Depart Carbondale with Todd Graham for Lambert-St. Louis International Airport. Early departure for Miami, Florida. Aiming for arrival in Miami before noon. Arrive in Miami, check into hotel. There will be an early afternoon debate Thursday at Miami Dade Community College (Dr. Bill Todd). There will be a 7 p.m. debate at the campus pub at the University of Miami.
Friday: Visit to classes at U of Miami and other warm weather adventures.
Saturday: At their pleasure, and dependent on weather and time: beach, Everglades National Park (airboat ride), Keys (snorkel trip or glass bottom boat, South Beach nightclubs, shopping, sports/Florida Marlins or UM Baseball….).
Cultural Experience:  Live out the Spring Break dream of every American college student.  Get a sunburn to brag about back home…
TO DUBLIN: Sunday: Apply cream for the burns. Head for home.
Irish Tour of America, arranged by Pax Rhetorica
Center for Global Dialogue
EIN: 81-1274216
Brent Northup, Founding Director
Biographies
Introducing the Irish: Denny, David Quinn & Kelly Ross
"Well, my parents often said that I could talk for Ireland and I guess I'll get to do just that!" Ross Kelly
Ireland has crowned its debating champions for 2007 and three Irish lads are headed to Colorado to oppose three top American debaters in a March 22 public debate that precedes the start of the NPDA national tournament.
The winning Irish debate team and the top individual were crowned on Saturday night Feb. 17 on the campus of Trinity College Dublin. The winning team was the home team from Trinity College Dublin, David Boughton and Ciaran Denny. The winning individual was David Quinn from King's Inn Law School.
Since law exams prevent Boughton from making the trip, Ross Kelly from University College Dublin Law School will substitute for Boughton. Kelly was a member of the runner up team.
---
Denny: Denny, 22, studies theology at Trinity College. Denny has debated for five years and has won every Irish intercollegiate competition at least once. Denny has competed at Worlds twice, in Dublin and Vancouver. Denny plans to take his theology training into the world of civil service.

Both of Denny's parents, who live in Dublin, are civil servants. His brother will start college at Trinity next year.

"I like debating because I enjoy winning," laughed Denny. "And it doesn't require any physical exertion like sports.

And who is the person away from the debates?

"I have played some chess but I'm not very good," says Denny. "I don't dance, read a fair bit, have a girlfriend. I'm generally friendly, quite lazy, mildly competitive if I'm winning, not when I'm losing."

---

David Quinn: David Quinn, 22, earned degrees in commerce and Italian from University College Dublin, and is now studying law in the King's Inn. Quinn, a former model United Nations champion in London, competed this year with partner Alan Flanaghan.

Quinn, who hails from Sandycove on the south side of County Dublin, was raised in an academic family: his father is a Senior Counsel barrister and his mother, a former solicitor, is pursuing a doctorate Renaissance English. David's brother Eoghan recently won the Irish model UN championship, and will soon represent Ireland at Harvard.

"This is my first year entering the competition," said Quinn. "I'm so happy to win and join the illustrious former winners."

---

Kelly Ross: Kelly, 23, has debated for seven years. In high school he was part of the team that the world championship in Singapore. In college he's made numerous finals.

Kelly, a math major who is in his first year of medical school, plans a future as a hospital doctor.

"I'm not the brilliant mathematician," laughed Kelly. "I spent my time skipping lectures and hoping to God I could cram enough stuff into the exam to pass it. I think that's the best way to approach college. That way I could spend my time doing debating and drama."

Both Kelly's parents, who live in Monaghan in Ulster (near Northern Island), are high school teachers. Kelly's older sister lectures in law at Trinity College and his younger sister is a high school student.

"I do this because it is fun," says Kelly. "It's nice to hold the attention of large numbers of people. When it goes well, it's a great buzz."

---

All the winners have travelled briefly in the United States before.

Quinn has briefly visited Florida and Washington DC.

Denny has been spent a month on the East coast on vacation.

Kelly spent three weeks in New York at 16, and spent three months working in Boston two years ago.

All are thrilled at the prospect of the American tour.

"I'm very honoured," said Quinn. "I'm very interested to see how things are done across the pond. I've had nothing but positive experiences with Americans. I'm looking forward to getting an insight into American college life and enjoying the experience."

"I'm delighted to be debating for Ireland," says Denny. "It's a nice finish to 5 years of debating in Ireland."

For Kelly, it's fulfillment of his parents' prophecy.

"Well, my parents often said that I could talk for Ireland," laughs Kelly, "and I guess I'll get to do just that!"