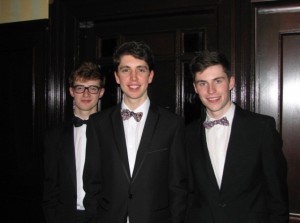 Irish Rising in America
The 2015 Irish Tour of America
Ski slopes, beaches, distilleries & Disneyland
Ireland ® Spokane® Kansas City®Los Angeles® Denver®
South Carolina®Tennessee®Miami® Ireland
Departure from Dublin:  Wednesday, March 11, 2015
Fly to Dublin:  Tuesday, April 7th, 2015 
M 11th– M 12th Spokane, Washington
M 13th – M 17th Kansas City & NPDA
M 18th – M 20th Los Angeles, California
M 21st – M 24th  Denver, Colorado
M 25th – M 29th Greenville, South Carolina & Atlanta
M 30th – Apr 2st Murfreesboro & Nashville, Tennessee
Apr 3nd – Apr 6th Miami, Florida
April 7 Fly home to Dublin
Highlights
SPOKANE. W,Th. Host: Michael Ingram, Whitworth Univ. Sightseeing, banquet, Irish pub.
KANSAS CITY. F,S,S,M,Tu. NPDA debate Championships. Host: Brent Northup. Saturday, public debate with top American debaters; Sunday tour of Kansas City, Missouri. Monday & Tuesday watching the national championships.
LOS ANGELES. W,Th,F. Host: Gary Rybold, Irvine Valley College. Disneyland. Getty Center.
DENVER. S,S,M,Tu. Host: Robert Margesson, Regis University & Megan Towles, Denver University. Ski/snowboard at Loveland ski area. Visit Rocky Mountain National Park.
SOUTH CAROLINA & ATLANTA. W,Th,F,S,S. Host: Lindsay Dixon, Clemson University. Tour Death Valley football stadium – seats 86,000. Moonshine Factory, with tasting room. Atlanta: CNN, Coke Museum.
TENNESSEE. M,Tu,W,Th. Host: Patrick Richey, Middle Tennessee State, Murfreesboro.  Nashville Tour including – but not limited to – Grand Ole Opry, Ryman Auditorium, Centennial Park. Civil War Battlefields. Lynchburg & Jack Daniels Distillery Tour.
MIAMI. F,S,S,M. Host: Dave Steinberg, University of Miami. De-bates and De-beaches.
Irish Tour of America, arranged by Pax Rhetorica
Center for Global Dialogue
EIN: 81-1274216
Brent Northup, Founding Director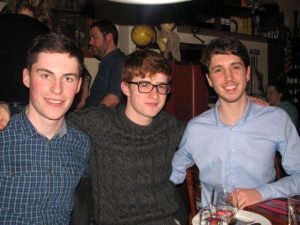 Biographies
Introducing the Irish: Ronan, Hugh & Eoin
A world semi-finalist among traveling Irish champs
Three Irish debaters from Dublin – two from Trinity University and one from University College Dublin – will travel to America after winning the Irish Times Final at Maynooth University in north County Kildare, Ireland, on Friday, February 20. One of the debaters advanced to the World University Debating Championship (WUDC) semi-final in January in Kuala Lumpur, Malaysia.
Hugh Guidera, 21, and his partner Rónán O'Connor, 20, of Trinity won the team title, while Eoin (Owen) MacLachlan, 20, of UCD was crowned best individual, roughly equivalent to Top Speaker at nationals in American competition.
The final round concluded a full year of competition, beginning with 111 teams from 20 different Irish universities competing in campuses around Ireland. The competition proceeded through quarterfinals and semifinals until the top 12 debaters emerged at the final Maynooth.
Four teams and four individuals debated in that Irish Times final, that crowned one team and one individual champion.
Guidera and MacLachlan were raised in the Dublin area, while O'Connor was raised in Durham, North Carolina, and lived there until he was 11 before his family moved abroad. O'Connor claims that his blood is not Irish green.
"I bleed Duke Blue and basketball is my favorite sport," says O'Connor. "I will be trying to keep up with how the Blue Devils are doing throughout March Madness."
All three are in their third year of university study. Guidera studies law and political science. O'Connor studies economics and sociology, while MacLachlan is studying law and economics. All three are keeping career options open, but O'Connor hopes to serve as an economic policy adviser.
The Irish winners are seasoned debaters with prestigious trophies on their shelves. O'Connor has debated for nine years, Guidera for five and MacLachlan for three.
Guidera was a finalist at the Oxford IV and a semi-finalist (debating with Michael Barton) at the 2015 World University Debating Championship in Kuala Lumpur, Malaysia. Two Trinity teams reached the round of 16 at WUDC 2015.
O'Connor served as captain of the Irish World Schools Debating Team in Cape Town, South Africa and Dundee, Scotland.
---
Eoin MacLachlan: Maclachlan has been a finalist at numerous European tournaments including Trinity IV, DCU and Galway. MacLachlan was a semi-finalist in 2014 at the Irish Times event, before winning this year.

MacLachlan is the head of the UCD Literary and Historical Society debate organization which boasts more than 5,000! members. L&H  meets every week to hold debates.

And, aside from being fine debaters, who are these Irishmen? All three describe themselves as "outgoing," hardly shocking.

But what else?

"I value close friends and having access to the sea for a nice, relaxing swim every once in a while," says Guidera. "I also edit a satirical newspaper in Trinity."

Aside from being Duke's biggest Irish fan, O'Connor has other interests, too.

"I also like to read, I have been a lifeguard and I enjoy running," he says. "And I am a Chair in the European Youth Parliament, volunteering to educate 16-20 year olds on the European political process and debate current issues facing the EU."

MacLachlan says he loves reading, traveling and walking.

"And I am the head of Ireland's largest student society, which holds public debates, takes part in competitive debating and brings in guest speakers," says MacLachlan.

---

O'Connor describes himself as "adaptable" who is "up for trying new things all the time." He says he loves to immerse myself in a new culture with new food or sport "or anything in between."

All three have visited America before, with O'Connor having been born in North Carolina where he lived until age 11.

"I loved America," says O'Connor. "And I can't wait to be back there for my first proper visit since I grew up there."

"I've been twice," says Guidera, "both times along the East Coast, seeing Baltimore, New York, Boston, Chesapeake Bay, Washington DC, Cape Cod and family in Connecticut."

MacLachlan has visited the states just once.

"A school trip with the school concert band to Pennsylvania, Ohio and New

York City," he recalls.

All three were thrilled to win the Irish Times Final, and are looking forward to the trip.

---

Guidera can hardly wait to board the plain.

"Impatient," he says describing his anticipation. "I can't wait to get going and see the southern states."

"It still hasn't sunk in!" says MacLachlan. "I am really look forward to seeing so many different parts of the U.S."

"I am incredibly proud and excited," says O'Connor. "It's an honor to represent the Irish Times, Irish debating and Trinity. While I grew up in North Carolina I didn't experience very much of the country and I am most excited to see so many sides of America throughout our trip. The diversity of culture is wonderful and even just the diversity of weather (from skiing in Denver to the beach in Miami) is something that I have never had the chance to experience before."

The Irish take debating very seriously.

"I've done a lot of debating," says Guidera.