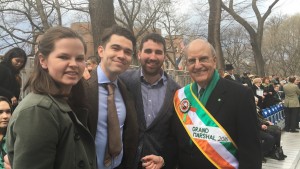 Irish Rising in America
The 2016 Irish Tour of America
Ireland > New York > Los Angeles > Arcata, California > Spokane, Washington > 
Helena, Montana > Miami > (Atlanta) > Ireland
Departure from Dublin: Tuesday, March 15, 2016
Fly back to Dublin: Thursday, April 7th, 2016 or Tuesday, April 12.
Optional Extension: US BP National Championships in Atlanta April 8-11
M 15 – M 17th New York City St Patty's Day Parade
M 18th – M 21th Long Beach, Calif. & NPDA Debate
M 22st – M 255h Arcata, California
M 26 – M 29th Spokane, Washington
M 29th – Apr 2nd Helena, Montana
Apr 3rd – Apr 7th Miami, Florida
April 7 Fly home to Dublin
(April 8-12 optional bonus stop: U.S. BP Champs in Atlanta) 
Highlights
NEW YORK CITY: Tu,Wed,Thu,Fri. Host Steve Llano, St. John's University. Hotel in downtown Manhattan. Guests of Honor at NYC St. Patty's Day Parade.
LONG BEACH, CALIFORNIA: Fri, Sat, Sun, Mon. Host Brent Northup. Public debate at NPDA; See beaches, maybe Disneyland, maybe Universal Studios; date Scarlett? Or Gosling?
ARCATA, CALIFORNIA: Tu,We,Th,Fri. Host Aaron Donaldson, Humboldt State, Northern California, on coast. Empty chilly beaches. Hippies (it is still 1972 here); Redwood tree hugging.
SPOKANE, WASHINGTON: Sat, Sun, Mon. Host: Michael Ingram, Whitworth Univ. Sightseeing, banquet, Irish pub.
HELENA, MONTANA: Tu,We,Th,Fri,Sat. Stay at Mountain lodge, tour working ranch, see Irish Montana from a pickup truck with a Hibernian guide.
MIAMI. Su, Mon, Tues, Weds, Thurs. Host: Dave Steinberg, U of Miami. Daniel Blaeuer, Florida Intl, William Murphy, Miami Dade. De-bates and De-beaches.
ATLANTA (Optional Bonus Extension): Th, Fri, Sat, Sun, Mon. Home Tues. Optional. America's National BP Championships at Morehouse University, Atlanta, Georgia. Guests of Brent Northup and Morehouse University.
Irish Tour of America, arranged by Pax Rhetorica
Center for Global Dialogue
EIN: 81-1274216
Brent Northup, Founding Director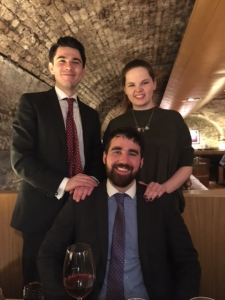 Biographies
Introducing the Irish: Ross, Aaron & Clíodhna
Three future Irish solicitors – two from the Solicitor's Apprentice Debating Society and one from University College Dublin – will travel to America after winning the Irish Times Debate Final at Royal College of Surgeons in Dublin on Friday, Feb. 19.
Ross O'Mahony and Aaron Vickery, two advanced law students from the Solicitors' Apprentice Debating Society of Ireland, won the team debating competition.
---
Clíodhna Ní Chéileachair: The individual winner Clíodhna (CLEE-uh-nah) Ní Chéileachair, 22, is from Bray in Wicklow County south of Dublin. Her great-grandfather took part in the Easter Rising in 1916 in Enniscorthy and was interned at Stafford and Frongoch. He was awarded a 1916 medal. Clíodhna, in her final year as an undergraduate, is headed towards a career as a lawyer.

She's only visited the states once, last year for the Yale tournament. "I saw about three hours of Boston and tried all of the American restaurant chains I could visit in one short weekend," she says. She says she loves to read and to listen to music. "I spend about 80 percent of my life listening to music," she admits. "I like watching Project Runway when I have nothing to do, and half-watching it when I have lots of study to do. And I really like food, both cooking and eating new meals. Sleeping is also great. "

Clíodhna, who describes herself as "outgoing with lots of opinions," enjoys competing in debate, and also coaching. "I coach competitive debating in disadvantaged schools in Dublin and I mentor debaters in my university," says Clíodhna.

Ní Chéileachair from Bray is the daughter of two teachers. Her great uncle is Irish union leader and activist Jim Larkin, whose statue stands on O'Connell Street in Dublin.

Ni Cheileachair has a distinguished debate resume, having won the prestigious Cambridge open in 2015, and reached semi-finals at Yale and at the European championships. "I'm very excited," she says "I have only spent six days in the US so far in my life.
---
Ross O'Mahony: O'Mahony, 27, was raised in Malahide, County Dublin. He attended Trinity College, the University of Dublin, majoring in history and political science. Ross specialized in the history of the Irish Revolution and published on the subject as an undergraduate. Like many barristers-in-training, he's politically active worked for the Leader of the Opposition in the Senate. He's still active in many local campaigns. O'Mahony also finds to volunteer. He has been an active supporter of an Irish charity, Suas Educational Development, for a number of years. "In 2010 I first volunteered with Suas and spent the summer teaching in Gatoto, a school in the slums of Nairobi," he says. "I have also volunteered in schools in disadvantaged areas around Dublin also."

This year I helped organize a debate between local schools hosted by the Law Society of Ireland and ran a coaching session to prepare students for this, it was the first year of what is to become an annual competition. O'Mahony has had three near misses in his pursuit the Irish Times championships. O'Mahony was a semi-finalist in both 2008 and 2010 and runner up in 2011. At that point, he had given up on winning the Irish Times Final, but his partner Aaron coaxed him back for one more go now that they both were in law school. "And I'm delighted that he did!" he said.

Finally, this year, O'Mahony won the championship. "Thrilled beyond belief!" he said, shortly after winning. "Winning the Irish Times is the achievement of a long-held dream. I am proud and honored. I can't wait to board the plane and start the adventure." Ross has been to the states on three prior occasions, twice as a child to Florida and then in 2008 he travelled with a friend to San Diego, California, Niagara Falls and Manhattan, New York.

And what's Ross like as a person? He loves to travel, visit historical sites and study Irish history. He says his friends say they'd nominate him "to talk for Ireland." "I love meeting new people and hearing their stories," says O'Mahony. And he enjoys food. "My other big passion in my spare time is food," says O'Mahony. "I'm always trying to improve my cooking skills (which as a beginner is easy enough!) and I love eating out and trying new restaurants and dishes. I'm really excited to sample my way across America and finding out about all the local favorites."

Ultimately, what does Ross value most? "My family, my girlfriend, and my friends," he says.

---

Aaron Vickery: O'Mahony's partner, Aaron Vickery, grew up in Cork, the son of an Irish farmer. He's never visited the United States before, although he has family in New York and Ohio. When he's not debating, he's active: he's a black belt in Karate and enjoys soccer, squash and cycling. "I also love to read," he says. "Currently, I'm enjoying Gore Vidal's 'Lincoln' "

He "cares deeply about environmental issues" and advocates for "environmental justice." He also supports Kiva, which is a micro-financing platform aimed at alleviating poverty. Like his partner, he's "politically active."

"My parents worked with Christian missions in Kenya for three years," he says, "And I was born in Kenya during that time."

Both O'Mahony and Vickery will be Irish solicitors in due time. The three Irish debaters survived a full year elimination tournament, beginning with 80 teams from 14 societies/colleges throughout Ireland. The competition proceeded through quarterfinals and semifinals in Dublin, Belfast, Cork, Galway and Kildare until the top 12 debaters emerged at the final in Dublin at the Royal College of Surgeons.