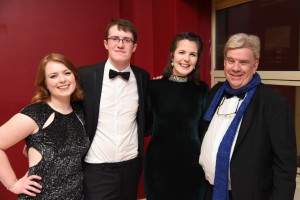 Irish Rising in America
The 2017 Irish Tour of America
Ireland – New York – Murfreesboro – Miami
Fort Worth – Spokane – Billings – Lakewood – Denver – Ireland

Departure from Dublin: Wednesday, March 15th, 2017
Return to Dublin: Tuesday, April 18th, 2017
Mar 15th – Mar 19th New York, New York
Mar 19th – Mar 23st Murfreesboro, Tennessee
Mar 23nd – Mar 28th Miami, Florida
Mar 28th – Apr 2nd Fort Worth, Texas
Apr 2rd – Apr 6nd Spokane, Washington
Apr 6th – Apr 10th Billings, Montana
Apr 10th – Apr 13th Lakewood, Colorado
Apr 13th – Apr 17th U.S. BP Championships in Denver, Colorado
Highlights…
NEW YORK CITY: Ar. Wed (15), Thu, Fri, Sat, Lv. Sun (19). Host: Steve Llano, St. John's University. Hotel in downtown Manhattan. Guests of Honor at NYC St. Paddy's Day Parade. Debate Spanish Champions from Barcelona at St. John's!
MURFREESBORO: Ar. Sun (19), Mon, Tues, Weds, Lv. Thurs (23). Host: Pat Richey, Murfreesboro, Tennessee; Tennessee State, Murfreesboro.  Nashville Tour including – but not limited to – Grand Ole Opry, Ryman Auditorium, Centennial Park. Civil War Battlefields. Lynchburg & Jack Daniels Distillery.
MIAMI: Ar. Thurs (23), Fri, Sat, Sun, Mon, Lv. Tues (28). Host: Dave Steinberg, U of Miami. Debates and De-beaches
FORT WORTH: Ar. Tues (28), Weds, Thurs, Fri, Sat, Lv. Sun (2). Hosted by Amorette Hinderaker. Texas Christian University. "The city where the West begins," Fort Worth offers a uniquely Western experience including twice-daily cattle drive. Billy Bob's, the largest honky-tonk in the U.S. Oh, yes, rodeo anyone?
SPOKANE: Ar. Sun (2), Mon, Tues, Weds, Lv. Thurs (6). Host: Whitworth University. Sightseeing, banquet, Irish pub.
BILLINGS: Ar. Thurs (6), Fri, Sat, Sun, Lv. Mon (10). Host: Shelby Jo Long, Rocky Mountain College. Yellowstone Mountains Beartooth Range. Ranches and the animals of the West.
LAKEWOOD: Ar. Mon (10), Tues, Wed, Lv. Thu (13). Host: Chris Leland, Colorado Christian University.
DENVER: Ar. Thu (13), Fri, Sat, Sun, Mon, Lv. Tues (18), Home Wed (19). America's National BP Championships at Denver University in Denver, Colorado. Irish may judge, debate or just enjoy. Guests of Brent Northup and Denver University and the USU National BP Championships.
Irish Tour of America, arranged by Pax Rhetorica Center for Global Dialogue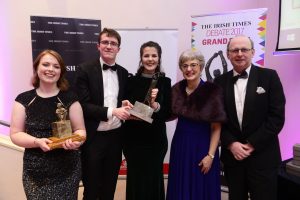 Biographies
Introducing the Irish: Aisling, Dara & Leah
"There's nothing more effective in soothing conflict and fostering mutual respect
 than a structured and timed conversation."
Leah Morgan
Three future Irish solicitors – two from the University College Dublin Law Society and one from the Solicitor's Apprentice Debating Society (via Trinity) – will travel to America after winning the Irish Times Final on Friday, Feb. 17.
The 2017 debate was hosted by Dublin Institute of Technology's Law and Debating Society.
The celebrity chair for this year was Minister for Children and Youth Affairs Katherine Zappone, an openly lesbian Irish official who was raised in Seattle. The topic for the evening was a contentious one about women's rights in Ireland: "This House believes the women of Ireland should strike to repeal the Eighth Amendment."
The topic was described by the Irish Times as "an allusion to the article within the State's constitution that provides equal right to life for the mother and the unborn."
The final was standing-room only, with 350 observers in the main auditorium – and more in a nearby overflow room watching the streaming.
Aisling Tully, 19, and Dara Keenan, 20, two advanced law students from UCD Law Society, won the team debating competition. They were mentored/coached by one of last year's winners, Clíodhna Ní Chéileachair.
---
Leah Morgan: Leah Morgan, 26, the niece of a well-known Irish actor/comedian Dermot Morgan, becomes the second straight individual winner from "SADSI," where law graduates go to start down the road into practicing law. The individual winner is roughly the American equivalent of Top Speaker. Raised in Blackrock, County Dublin, Morgan studied law and German as an undergraduate. She debated for two years at Trinity College Dublin and has continued debating while serving as a first-year solicitor trainee at SADSI.

Leah notes that both parents work in aviation, "but not the good part of the industry that results in free flights."

Her uncle starred in sitcom "Father Ted," a long-running British comedy about three priests on an island off the coast of Ireland. Father Ted, played by Morgan's uncle, may or may not have used money earmarked for a sick child to take a holiday in Las Vegas.

A younger sister is a drama student at Trinity College Dublin and "is therefore actually the trained public speaker."

"I have a much younger brother, too – can't speak for his debate ability yet, but as he speaks Russian, German and English fluently at age 6," she says. "It's safe to say he's well-equipped for the European circuit."

Eager to combine her German skills with her debating skills, Leah once entered a German language debate competition.  Leah confesses that may have been an ill-conceived idea. "It went poorly," she says.

Leah volunteers at Street Law this year, a joint project of the Law Society of Ireland and the Georgetown University Law Center. The program teaches law in disadvantaged areas "in a fun and interactive way."

As for politics, Leah is fascinated but not yet active. "I am not currently a member of any political party," she says, "but I definitely am very interested in politics!"

Towards that end, she reads three newspapers daily – printed on real tangible non-digital parchment – and is outspoken in her views. "I actively support the Abortion Rights Campaign and the Coalition to Repeal the Eighth Amendment," she says.

As for the person, Leah admits to being quite outgoing and valuing friends. "My friends would say I'm definitely out-going, and could kindly be described as 'lively' and incredibly talkative. I think I'm quite funny, which is about half the work."

She confesses that she "runs less than she should" and goes to "a lot of gigs and table quizzes."

She also values "good friends, good work, the absolute minimum amount of awkward silence."

She's only visited the United States once as a child, touring a few New York art museums "partly for the art, partly for the air conditioning."

Leah relishes debating students from other countries and cultures.

"Possibly it's something to do with growing up in a nation full of Eurocrats, but I believe that there's nothing more effective in soothing conflict and fostering mutual respect than a structured and timed conversation on the topical issue of the day," she says. "Even if one is unable to agree with someone else, one should be able to hear their argument, understand and respond to it, and work with their perspective. International debate is a route to accessing that skillset, and should lead to greater understanding and cooperation across borders.

Leah is "absolutely delighted and incredibly excited" about the approaching trip.

Her view of America is "overwhelmingly positive!"

"There are so many great thinkers, artists and educators. Cannot wait to get to know the States better."

And, despite the "suspended disbelief" engendered by the recent American election, she remains optimistic about the future.

"I am certainly hopeful," she says.

---

Dara Keenan: Dara Keenan studied law and politics at the University College Dublin, UCD, towards a career involving law, although he's keeping options open. He was raised in Monkstown County Dublin, in south Dublin. His parents are professionals, a journalist and a psychiatrist.

When asked to pinpoint a career, he's admits he's still pondering. "That's an excellent question," he says. "In terms of my future, would love to get involved with journalism, no matter how much my dad objects, whether it be sports or global politics."

He says his study of law and politics has also inspired him. "The politics in my degree probably interests me most as well," he says, "particularly things like international relations and human rights.

He's debated for two years, and was coached by last year's winner, Cliodhna Ní Chéileachair.

Competition comes in the family – including some unlikely victories to inspire him.

"My granddad won two All-Ireland Gaelic Football Championships with Roscommon, a bit like if the Cleveland Browns won two Super Bowls in a row," he says proudly.

Dara has visited America four times before – once in Florida, and three times in New York City.

"Really looking forward to seeing see parts of America I wouldn't otherwise get the chance to see," he says.

His hobbies include reading, rugby and Gaelic football. He has a strong interest in politics, but is not currently politically active.

A self-described as "funny, sociable and outgoing," Dara also devotes energy to "debate outreach" which is "teaching debating in primary schools throughout Dublin that wouldn't have the resources to employ a debating coach."

Dara found the American election "an incredibly interesting insight into the psyche of countless Americans and also served as an example of growing discontent globally."

"But I also have faith we'll get through most of the issues we're facing right now," he says. "I'm just generally an optimistic person."

He values international debate as an opportunity to "share viewpoints and get to understand cultural differences."

Asked how excited he is about the trip, he begins with understatement: "Only just a little bit."

But then he confesses that he "can't wait" and is "incredibly excited."

---

Aisling Tully: Aisling loves music.
"I love music, I'm classically trained in singing and I play guitar and a little piano," she says. "I'm currently studying French and I enjoy learning more about it. I'm also nearly fluent in Irish and I'm quite involved in a local Irish speaking community."And then there's Aisling, the athlete.

"Up until recently I played basketball for the university basketball team and I really enjoy most forms of exercise."

Away from debating, Aisling describes herself as friendly and approachable.

"I really value the relationships I have with my family and friends," she says. "To be able to trust people and to get to know them as well as you know yourself and to be able to make them smile and laugh is so special to me. I try my best to be as supportive and understanding as possible."

She's an active volunteer in speech and in sports.

"I've got four years' experience coaching basketball in my secondary school," she says. "As part of a program in our debating society I go to schools in disadvantaged areas and teach debating. I work for the university to raise money to cover scholarships for students with the academic capability, but without the financial means to get into a university."

Aisling's not too active in local Irish politics, but she watched the American presidential election with great interest.

"I think the American presidential race highlighted some clear failings of politics," she says. "The anger of working class Americans who feel ignored by the political system and the anger of women who are expected to reach a bar much higher than that expected of men were both of tangible intensity all over the world.

"There were many times in the run up to the election where I was shocked or saddened, but ultimately the story told was more about the people on the ground and how politics can so often focus on the people at the top when it shouldn't."

Nevertheless, she's still hopeful.

"Yes, I am optimistic about life," she says. "First, because I enjoy being pushed and I have faith in my ability to continue to look for happiness in big and small things. Second, because I have seen the kindness of people. I have been in some very difficult situations in my life and the support of family friends and even strangers truly kept me afloat and the knowledge that there are so many fantastic people in my life makes me very very optimistic."

"In regard to the future of the world I think as the world becomes more educated, both through books and experience, we can begin to see a higher level of empathy and a greater emphasis on self-awareness and self-love. I think these things improve the world we live in because they create an awareness of mental capacity and mental health and increase tolerance across culture, race, gender, and any other qualities by which prejudice attempts to separate us. A world that prioritizes people and is a much safer world for everyone."

She sees debating as playing a role in knocking down walls.

"Unless we understand the world from someone else's perspective we are unable to work with them or cooperate," she says. "Global issues affect everyone, but our opinion on them varies based on our life experiences, cultural values, expectations and political ideologies. In a world with increased globalization and interdependency it is important that we use dialogue to understand other cultures. From there we can create respect."

Aisling is eager for the trip. She's only visited the states once – to San Diego when she was 10.

"I can't wait to explore America," she says. "America is such a massive country in comparison to Ireland I'm so excited to learn more about it and see more firsthand."

She shares many American values.

"I love the values that America stands for, like freedom and national unity, and that they seem to be so ingrained in its people," she says. "I also find the range of culture and diversity fascinating, because there is very little racial, cultural or religious diversity in Ireland. Any American people I've met have left a good impression. In my experience Americans tend to be enthusiastic and friendly and very supportive and caring people!"